BUTTWELD FITTINGS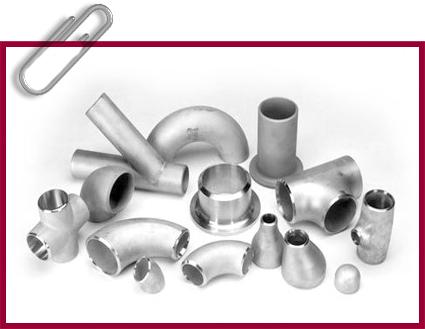 We are one of leading Stockiest, Suppliers & Semi-Manufacturer's of pipefittings. We carry butt weld stainless pipe fittings, socket weld stainless fittings and screw type stainless steel fittings in a variety of sizes. 

If you require stainless steel pipefittings, contact us and one of our representatives will be happy to help you order just what you need. We are also available to answer questions you may have about our stainless steel fittings or any of our other products. 


User Industries: 

Chemicals, Fats, & Fertilizers, Sugar Mills & Distilleries, Cement Industries, Ship Builders, Paper Industries, Pumps, Petrochemicals, Technology, Finance & Personal.

Product Range: 

The following table represents size range, product standards and material grades of Pipe Fittings.
| | |
| --- | --- |
| TYPE | BUTT-WELD, SOCKET – WELD, FORGED & SCREWED FITTINGS. |
| ITEM | 90° ELBOW (LONG RADIUS / SHORT RADIUS), 45° ELBOW (LONG RADIUS / SHORT RADIUS), EQUAL TEE, REDUCING TEE, ROUND CAP, CONCENTRIC / ECCENTRIC REDUCER, LONG NECK STUB END, COLLAR / TAIL PIECE, BARREL NIPPLE, HEX NIPPLE. |
| STAINLESS STEEL MATERIAL | ASTM A 403 & A 182F WP304 / WP304L / WP316 / WP316L / 316 Ti / 321 / 310. |
| CARBON STEEL MATERIAL | ASTM A 234 WPB, WP ASTM A105. |
| DIMENSIONS | ANSI B 16.9 / MSS SP- 43 |
| THICKNESS | SCH5S / SCH10S / SCH40S / SCH80S / SCH 120S |
| SIZE | 1/2" – 30" |
| METHOD | E R W (WELDED), SEAMLESS & FORGED. |
| MAKE | Manufacturer & As per design & Specification |
===========================================================
➲ Stainless & Duplex Steel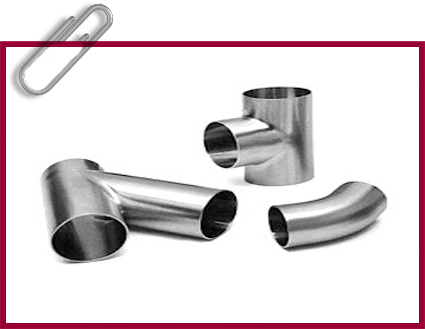 RANGE :

15 NB UP TO 1200 NB IN SCH 5S , 10S ,10, 20 , 40S , 40 , STD , 60 , 80S , 80 , XS , 100 , 120 , 140 , 160 & XXS.


FORM : 

SEAMLESS & WELDED LONG RADIUS & SHORT RADIUS ELBOW 90 DEG , LONG RADIUS ELBOW 45 DEG ,Long Radius & Short Radius Elbow 90 Deg , Long Radius Elbow 45 Deg , Long Radius & Short Radius Elbow 180 Deg ( Return Bend ) , Reducing Elbow , Equal Tee , Un Equal Tee, Crosses , Concentric Reducer , Eccentric Reducer , Long Stubend , Short Stubend , Coller , Pipe Cap , Long Radius Bends R =3 D , 5 D , 6 D , 8 D ,10 D & 20 D In 15 Deg ,30 Deg, 60 Deg & 90 Deg And Drawing Bassed Butt Weld Fitting ( Customised ).

Stainless Steel: 

ASTM / ASME SA 403 GR WP "S" / "W" / " WX" 304 , 304L ,304H, 304N , 304LN , 309, 310H , 316 , 316H , 317 , 317L , 321 , 321H , 347 , 347 H 

Duplex Steel : 

ASTM / ASME SA 815 UNS NO.S 31803 , S 32205 , S 32550 , S 32750 , S 32760 .



===========================================================




➲ Carbon & Alloy Steel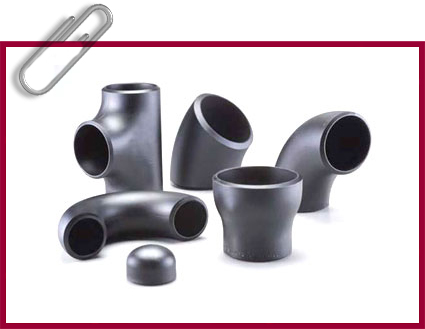 RANGE :

15 NB UP TO 1200 NB IN SCH 5S , 10S ,10, 20 , 40S , 40 , STD , 60 , 80S , 80 , XS , 100 , 120 , 140 , 160 & XXS.

FORM : 

SEAMLESS & WELDED LONG RADIUS & SHORT RADIUS ELBOW 90 DEG , LONG RADIUS ELBOW 45 DEG ,Long Radius & Short Radius Elbow 90 Deg , Long Radius Elbow 45 Deg , Long Radius & Short Radius Elbow 180 Deg ( Return Bend ) , Reducing Elbow , Equal Tee , Un Equal Tee, Crosses , Concentric Reducer , Eccentric Reducer , Long Stubend , Short Stubend , Coller , Pipe Cap , Long Radius Bends R =3 D , 5 D , 6 D , 8 D ,10 D & 20 D In 15 Deg ,30 Deg, 60 Deg & 90 Deg And Drawing Bassed Butt Weld Fitting ( Customised ).

Carbon Steel : 

ASTM / ASME A 234 WPB , WPC 
ASTM / ASME A 860 WPHY 42 , WPHY 46 , WPHY 52 , WPH 60 , WPHY 65 & WPHY 70 .

Alloy Steel : 

ASTM / ASME A 234 WP 1, WP 5, WP 9, WP 11, WP 12, WP 22, WP 23, WP 91



===========================================================




➲ Nickel & Copper Alloy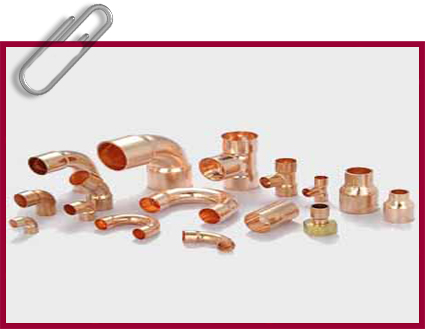 RANGE : 

15 NB UP TO 1200 NB IN SCH 5S , 10S ,10, 20 , 40S , 40 , STD , 60 , 80S , 80 , XS , 100 , 120 , 140 , 160 & XXS


FORM : SEAMLESS / ERW / WELDED IN ROUND & SQUARE.

Nickel Alloy: 

ASTM / ASME SB 163 UNS 2200 ( NICKEL 200 )
ASTM / ASME SB 163 UNS 2201 (NICKEL 201 ),
ASTM / ASME SB 163 / 165 UNS 4400 (MONEL 400 )
ASTM / ASME SB 464 UNS 8020 ( ALLOY 20 / 20 CB 3 ),
ASTM / ASME SB 704/705 UNS 8825 INCONEL (825)
ASTM / ASME SB 167 / 517 UNS 6600 (INCONEL 600 )
ASTM / ASME SB 167 UNS 6601 ( INCONEL 601 ), 
ASTM / ASME SB 704 /705 UNS 6625 (INCONEL 625) 
ASTM / ASME SB 619/622/626 UNS 10276 ( HASTELLOY C 276 )

Copper Alloy : 

ASTM / ASME SB 111 UNS NO. C 10100 , 10200 , 10300 , 10800 , 12000,12200, 70600 , 71500 .
ASTM / ASME SB 466 UNS NO. C 70600 ( CU -NI- 90/10) , C 71500 ( CU -NI- 70/30)



===========================================================




➲ Hastelloy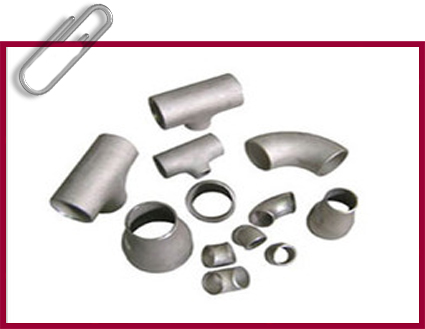 Grades : Hastelloy C-22, Hastelloy C-276, Hastelloy C-2000

Standards : ASTM / ASME SB 336 & XXS



Types : Bend (Long & Short)

Elbow (180 Deg., 90 Deg. & 45 Deg.)
Tee (Equal & Unequal)
Reducer (Concentric & Eccentric)
CAP, Stub end (Long &Short)
Nipple (Barrel)



===========================================================




➲ Inconel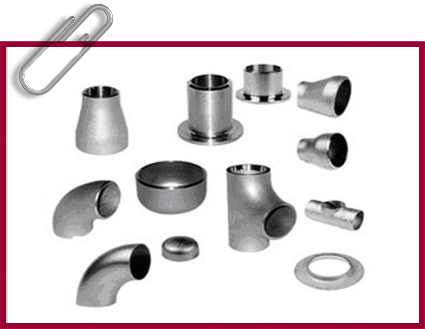 Grades : 

Inconel 600, Inconel 601, Inconel 625, Inconel 625LCF, Inconel 686, Inconel 718, Inconel 800, Inconel 825, Inconel X-750


Range : 15 NB UP TO 600 NB IN SCH 5S, 10S,10, 20, 40S, 40, STD, 60, 80S, 80, XS, 100, 120, 140, 160 & XXS

Types :

 Elbow 90 Deg, Elbow 45 Deg, Elbow 180 Deg, long/short radius elbows, equal/unequal tees, concentric/eccentric reducers, caps, crosses, short/long neck stub-ends



===========================================================




➲ Incoloy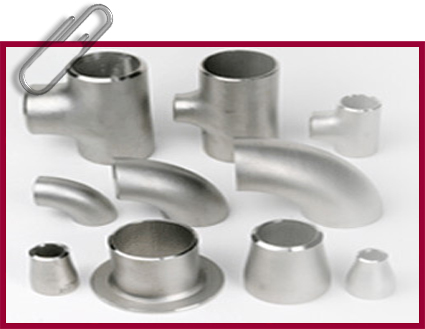 Grades : Incoloy 800, incoloy 825, Incoloy 925, Incoloy a-286, Incoloy DS

Standards : ASTM B366



Types : 

Bend (Long & Short)
Elbow (180 Deg., 90 Deg. & 45 Deg.)
Tee (Equal & Unequal)
Reducer (Concentric & Eccentric)
CAP, Stub end (Long &Short)
Nipple (Barrel) 



===========================================================




➲ Monel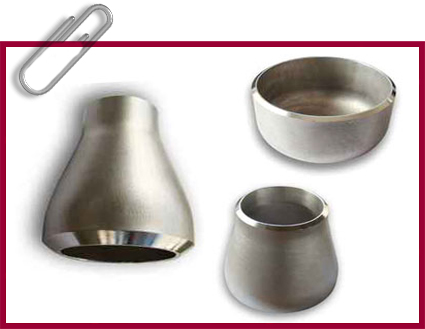 Grades : Monel 400, Monel k500

Range : 1/2" NB to 36" NB



Types : long/short radius elbows, equal/unequal tees, concentric/eccentric reducers, caps, cross, short/long neck stub-ends



===========================================================




➲ Titanium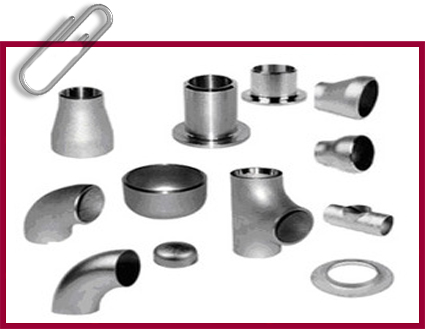 Grades : Grade 1, Grade 2, Grade 3, Grade 4, Grade 5, Grade 7, Grade 9, Grade 23

Range : 15 NB To 600 NB in Sch.:5,10,20,40,80,120,160,XS, XXS.



Types : 

Bend (Long & Short)
Elbow (180 Deg., 90 Deg. & 45 Deg.) Tee (Equal & Unequal)
Reducer (Concentric & Eccentric)
CAP, Stub end (Long & Short) 
Nipple (Barrel) 



===========================================================